What started as a humble and quaint pumpkin patch has sprouted into a full-fledged "agritainment" destination for thousands of Puget Sound area families. It serves guests of all ages who seek the thrill of navigating their way through the corn maze, searching for and finding that perfect sunflower, pumpkin or picture in our picturesque fields, or braving the now infamous Haunted Woods.
This Buckley-area farm offers great food options, scenic hayrides around the farm. Depending upon the season, you'll find an animal barn full of goats, sheep, rabbits, chickens and pigs; and for those with a bit more energy who are seeking the more adrenalin-driven activities, there's live pig and duck races, the kids' courtyard (an overgrown playground of sorts with about a dozen kids' activities), Mega Slide, a huge jumping pillow, speleo cave, low ropes course, zip lines, large tube slides, apple blaster cannons (in the fall), human foosball and a massive candy cannon (Baby Animals and Fall seasons).
"You should be able to come here and spend at least half a day enjoying any number of activities," says Dale Maris, who dairied on the 40-acre location for 15+ years before selling his herd and turning it into what it is today. "There's an activity for every age group and it's as affordable and wholesome a form of family entertainment as you'll find anywhere."
Maris' early agri-tourism efforts happened with the help of Joanne Templeman, his brother-in-law Steve Templeman and mother, Kay with a small 2 acre pumpkin patch on the family's homestead site in the late 90's. In 2000 Maris Farms' relocated to the dairy and introduced its first corn maze (a rendering of Mount Rainier). The Haunted Woods venue was added in 2003 and has grown into legendary scary status. Sunflower Days debuted in 2020 and Baby Animals and Blooms in 2021.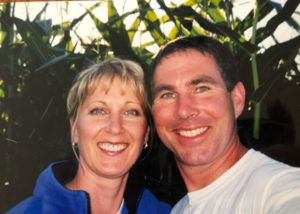 Dale Maris is the "visionary" behind Maris Farms. A lifelong resident of Buckley, Washington and a 1980 graduate of White River High School, Dale purchased the farm in 1983 to dairy farm, which he did until 1998. Dale spent a brief time delivering dairy supplies to local and eastern Washington dairies after shutting down his dairy business. He became a firefighter for East Pierce Fire & Rescue in 2007.
Dale is married to his lovely wife, Pamela, who manages the farm's kettle and roasted corn stand.
Joanne Templeman spearheads the details involved with each event. Steve, aka the "Hog Father" (master of farm marketing, laughs, lines and pig & duck races at Maris Farms). Joanne handles personnel, accounting and general business operations at Maris Farms. She can also be seen driving a tractor throughout the year.
Steve Templeman operates the non-profit, Celebrate Harvest to bring awareness to experiential farming, and Maris Farms is fortunate to host his pig and duck races each October.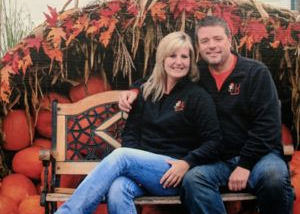 Mike Meeks is the energy behind the Haunted Woods, concessions and many other projects undertaken at Maris Farms. Lisa curates and operates the lovely Maris Mercantile Gift Shop and Milkhouse Sweetshop.
Through a kinship with the Templeman's that began as a youth wrestling coach, Mike and his wife Lisa have been brightening the farm since they began with selling churros during 2005 fall season.
Part of The MAiZE Group of Farmers
Maris Farms is part of a larger organization known as The MAiZE , which provides support and inspiration to than 250 mazes worldwide. Each MAiZE affiliate offers its own form of "agritainment" in its marketplace but the group shares ideas and advice in the areas of marketing/promotions, employee training, accounting, farming, maze cutting and several other areas necessary for a successful agritainment business.
There is also instant name recognition and credibility connected to this organization. Since the introduction of its first location in 1996, MAiZE sites have drawn millions of visitors. Making a name for itself, The MAiZE has attracted the attention of newspapers, television and radio stations across the country-among them:
Paul Harvey News, CNN, USA Today, The Today Show, Progressive Farmer, Time, Newsweek, National Geographic and Family Circle.
Locally, Maris Farms has been featured in the Enumclaw/Bonney Lake/Sumner Courier Heralds, The (Tacoma) News Tribune, Seattle Times, Seattle PI, KOMO TV and KING 5's Evening Magazine. Nationally, Maris Farms has had air time on National Public Radio and on MSNBC.com.